On Thursday, Kenya Airways began selling tickets for its new flight from its main hub in Nairobi to New York's John F. Kennedy Airport.
Kenya Airways Group Managing Director and CEO Sebastian Mikosz.
In September 2017, the airline was granted approval to operate flights in the United States by the department of transportation while JKIA in the same year was granted category one by the US Federal Aviation Administration after the airport upgraded its security features.
Kenya Airways, in a statement, touted the flight as the quickest way to get from East Africa to NY.
Flights will depart daily from Jomo Kenyatta International Airport (JKIA) at 11.25 pm arriving at John F Kennedy International Airport in NY at 6.25 am the following day. From New-York it will depart at 1225 and land at JKIA at 1055 the following day.
Kenya has in the a year ago been in the process of acquiring the requisite approvals from the US Transport Security Administration for the direct flights and the national carrier admits it will be a logistic intensive exercise. What was pending was approval of the Air Service Licence and Air Operation Licence from the U.S. authorities which has been granted.
The flight duration will be 15 hours east bound and 14 hours west bound and the airline hopes to capitalise on multi-national traffic.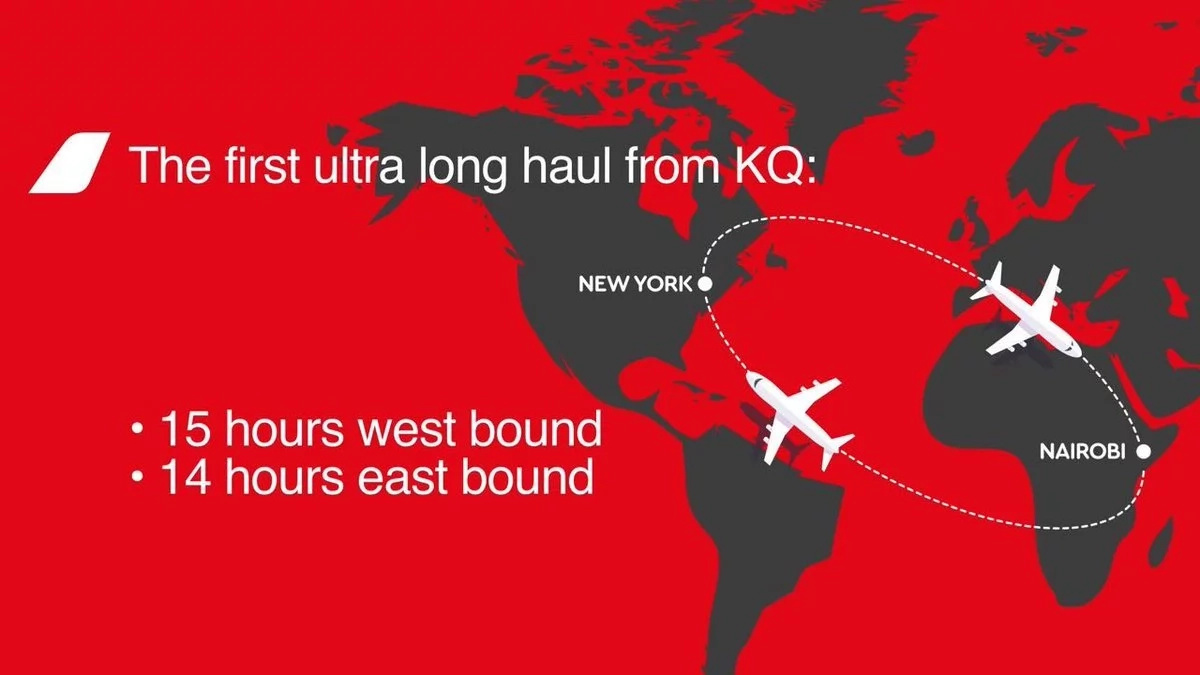 Flight time between Nairobi and New York will be reduced from over 22 hours to 15 hours
American firms with a deep presence include IBM, Coca-Cola, Google, Microsoft and Cisco.
Kenya Airways said the timings were set to allow connections to and from 40 African destinations.
The chief executive noted the USA is Kenya's top tourist source market, with 95,771 people having visited between January and Oct 2017. Kenya Tourism Board (KTB) chief executive officer, Dr Betty Radier, welcomed the development saying anticipation is high the number of tourists visiting Kenya from the U.S. will grow.
Kenya Airways already serves Africa, Europe, Middle-East, Indian sub-continent and Asia.
He added that the airline had confidence in the route, saying "we would not embark on this if we were not confident that it will work".
It continues to modernize its fleet with its 32 aircrafts being some of the youngest in Africa.