British Prime Minister Theresa May is expected to ask her cabinet of ministers on Thursday to approve Britain's involvement in military action against Syrian chemical weapons infrastructure, Sky News said.
So there is no practicable alternative to the use of force to degrade and deter the use of chemical weapons by the Syrian Regime.
In 2013, Britain did not take part in military action in response to a chemical attack in Syria after then Prime Minister David Cameron failed to get approval from Parliament.
In a press conference this morning, Mrs May said: "We are confident of success". "This collective action sends a clear message that the global community will not stand by and tolerate the use of chemical weapons", May told a press conference.
"We have been working to establish what has happened and everything indicates a chemical weapons attack". Strike could be delivered already on Thursday.
Russian Federation has called for the United Nations Security Council to meet on Friday for fresh discussions on Syria.
Following the meeting, May spoke to Donald Trump and the pair agreed that the United Kingdom and the U.S. would "keep working closely together on the worldwide response", according to a statement from Downing Street.
"They agreed that the Assad regime had established a pattern of unsafe behaviour in relation to the use of chemical weapons".
"We are prepared to sustain this response until the Syrian regime stops its use of prohibited chemical agents".
"All responsibility for them rests with Washington, London and Paris. Could be very soon or not so soon at all!"
"The US - the possessor of the biggest arsenal of chemical weapons - has no moral right to blame her countries".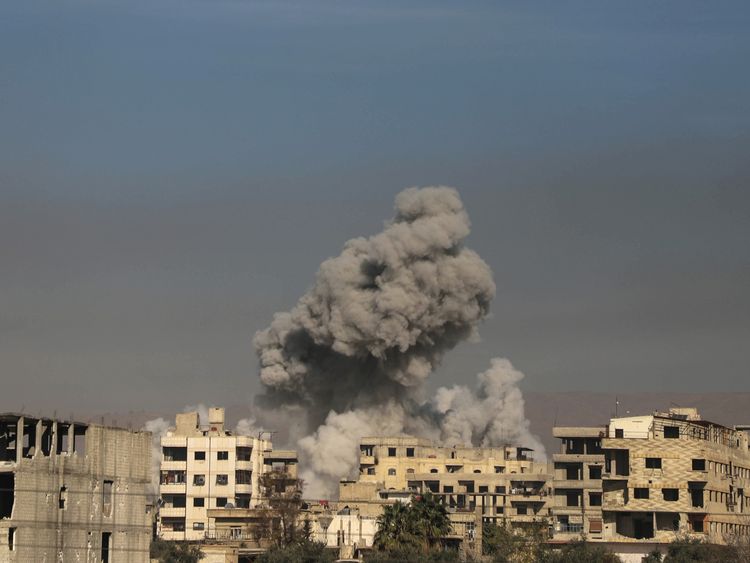 Image Explosions in Hazeh in the rebel enclave of eastern Ghouta
Russia's UN ambassador last night called for an emergency meeting of the UN Security Council.
The No 10 statement issued following the Cabinet meeting said Mrs May had again described the attack on Douma as a "shocking and barbaric act" which represented a further erosion of worldwide law.
"All the indications are that the Syrian regime was responsible, " May said.
"Following a discussion in which every member present made a contribution, Cabinet agreed it was vital that the use of chemical weapons did not go unchallenged".
"I believe that the action taken will have significantly degraded the Syrian regime's ability to use chemical weapons", she said.
The cabinet is expected to support May to join a possible military action by the US and its allies against the Syrian regime without seeking a parliamentary approval.
Labour leader Jeremy Corbyn insisted that MPs were entitled to a vote, saying Parliament "must be consulted".
Liberal Democrat leader Sir Vince Cable told the BBC: "Parliament can and should be recalled immediately and a vote held on this issue".
A team from the Organisation for the Prohibition of Chemical Weapons is due to start its investigation in Syria on Saturday.
Earlier this month, a United Nations commission of inquiry released a report accusing the regime of committing war crimes in Eastern Ghouta, including the use of chemical weapons against civilians.